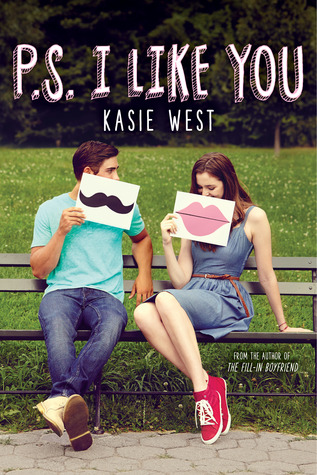 Genre: Young Adult, Contemporary, Romance
My Rating: 4.5 stars
Goodreads Synopsis
Signed, sealed, delivered…
While spacing out in chemistry class, Lily scribbles some of her favorite song lyrics onto her desk. The next day, she finds that someone has continued the lyrics on the desk and added a message to her. Intrigue!
Soon, Lily and her anonymous pen pal are exchanging full-on letters—sharing secrets, recommending bands, and opening up to each other. Lily realizes she's kind of falling for this letter writer. Only, who is he? As Lily attempts to unravel the mystery and juggle school, friends, crushes, and her crazy family, she discovers that matters of the heart can't always be spelled out…
Kasie West is one of my favorite contemporary authors. I don't think I've talked much about her here before though. I love all her stand-alone books: The Distance Between Us, On The Fence and The Fill-in Boyfriend. I haven't read her Pivot Point duology yet. Mostly because it is a different genre than the rest of her books.
P.S I like You was a really sweet contemporary book. It wasn't too heavy. It was simple but interesting. I liked Lily's character a lot. She was funny and sarcastic. The concept of back-and-forth anonymous letters was not very original but it was done well and I really enjoyed it. I loved the songwriting and music part of the book as well. The love-hate relationship was also fun to read about. There is also the mystery behind the letter writer in the book.
If you need a contemporary romance that will keep you hooked, then you should pick up this book.
Kasie West's latest book By Your Side was recently released. I haven't finished it yet but I will soon. After that, I might make a full post sharing my thoughts on all her books that I have read. What do you guys think?
Have you read this book or any other books by Kasie West? Let me know down below.