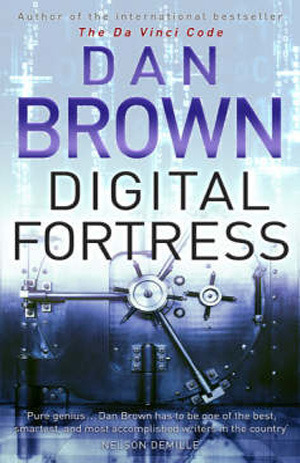 Genre: Thriller, Mystery
Publisher: Corgi books
Release Date: February 1998)
Pages: 512
Format: Paperback
My Rating: 5 stars
Goodreads Synopsis
When the NSA's invincible code-breaking machine encounters a mysterious code it cannot break, the agency calls its head cryptographer, Susan Fletcher, a brilliant and beautiful mathematician. What she uncovers sends shock waves through the corridors of power. The NSA is being held hostage…not by guns or bombs, but by a code so ingeniously complex that if released it would cripple U.S. intelligence.
Caught in an accelerating tempest of secrecy and lies, Susan Fletcher battles to save the agency she believes in. Betrayed on all sides, she finds herself fighting not only for her country but for her life, and in the end, for the life of the man she loves.
From the underground hallways of power to the skyscrapers of Tokyo to the towering cathedrals of Spain, a desperate race unfolds. It is a battle for survival–a crucial bid to destroy a creation of inconceivable genius…an impregnable code-writing formula that threatens to obliterate the post-cold war balance of power. Forever
My Thoughts
Digital Fortress is the only book I've read by Dan Brown. It is one of his stand-alone novels. The plot was very different than anything I'd read before. The book pulled me in right from the start. The technical stuff was not as boring as I thought it would be. The story was very mysterious and suspenseful. The book just kept on getting more and more intense.
The book is told through multiple perspectives. The writing was good.
This book was a very engaging read. It was very plot driven. There were a lot of twists and they did made the book very exciting. There were a lot of surprises and new problems kept on coming for the characters. The book keeps us on our toes. The only criticism i have is that it could have been a bit shorter.
I absolutely loved this book. The plot was amazing. It was nothing like I've read before. For some reason, I thought that Dan Brown's book wouldn't be my thing because they were too complex but I was so wrong. I'm really looking forward to reading more of his books.
Have you read this book? Which book by Dan Brown is your favorite? Let me know down below!