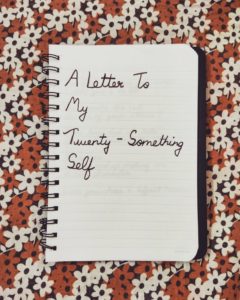 Hi there!
I hope that wasn't too cheerful for the 20 something you are now.
I hope you're not one of those people who feels like the life has been sucked out of them when they're still pretty fucking young.
Did you finally get that job you wanted?
Are you still exploring new interests on the side?
I wouldn't blame you if you're not.
Every little things exhausts me right now.
I can't imagine how that wouldn't get worse as I'm reaching your age.
Is your relationship with people still as complicated?
Do you still feel like a misfit all the time?
If you are, I hope you've found your crowd. The people that don't let you drown yourself by these thoughts.
Did you cross off all the things on your bucket list?
Or are you still just adding more?
Regardless,
Experiences have a way of finding you.
And the best ones are always those you didn't plan for.
And how is the world?
Did the gap between the impoverished and the privilege ever decrease?
Is the world kinder?
I hope so.
It's okay if you don't have answers to any of these questions.
Humans love comparisons.
And more than anything, we love comparing ourselves.
It's not a bad thing to seek growth.
The problem begins when the unbalanced numbers on the comparison scale make us feel worthless.
They make us feel like the old version of a shiny new phone in the market
Always replaceable with a better model.
Worst of all, they stop us from becoming who we want.
So I hope you don't use your age as a comparison scale.
You are a human being who is more than your achievements.
You are a human being who is lazy, moody, unmotivated and messy— but none of those things define you.
You might be smarter. You might still be naive.
But I hope there are some things that haven't changed
19, 25, 30, there is no age at which you shouldn't believe in yourself.
There is no age at which you shouldn't be kind to yourself.
I hope you're not part of a race
You will fall down enough times without one.
And when you do, I hope you write
Since that's how you make sense of the world.
I hope you write back to me and to our even older selves.
We all gotta stick together
Forget other people, let's first talk to each other, okay?
– Tavleen