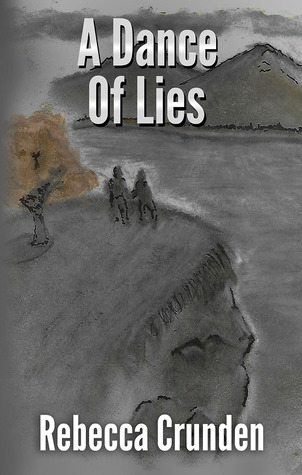 Source: Review Copy
Pages: 275
My Rating: 4 stars
Read my review of Book 1 – A Touch of Death, Book 2 – A History of Madness, and Book 3 – A Promise of Return.
A Dance of Lies is the fourth book in The Outlands pentalogy. This book begins about a year after Thom, Kitty, and Nate are reunited and have been living in the Outlands, away from the Kingdom. In the Outlands, there are no rules, kings, or prisons and the characters can finally taste freedom. Yet, they are haunted by the scars the Kingdom left on them and are dealing with the horror that is following them in the Outlands. 
I found this book to be heavily character-driven. We see how complicated the relationships between the characters have become, especially with each of them dealing with their own trauma. Thom, Nate, Kitty, Charlie—their lives were falling apart in many ways and they were themselves falling apart emotionally. This book was mostly told through Kitty's perspective. I feel that because of everything she had been through, there was loneliness inside her even though she was with the ones she loved. I really enjoyed her development throughout this book.
I liked seeing the main characters getting closer to other characters like Tove, Riddle, and Engus. I especially loved getting to know Riddle. It was also nice to see a different and new kind of bond forming between Kitty and Thom.
The involvement of the Radiants was more in this book and I found them very interesting. I wouldn't mind seeing more of them in the next book.
There was comparatively less action in this book than the previous ones. It felt more like a build-up for bigger things to come. I enjoyed that and it was a nice break from the previous book which was quite intense. However, the ending completely threw me off and made me love this book even more.
The Outlands is an unputdownable series that keeps on getting more and more thrilling. I love that the author is keeping the books short so as to not make any part of them monotonous. I haven't been this invested in a series in a long time. I can't wait to see how it kinds and what happens to the characters.
Trigger warning – violent situations
Connect with me on Instagram | Twitter | Goodreads