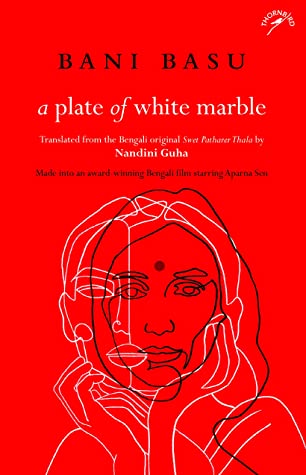 Pages: 185
Publisher: Niyogi Books
Publication Date: September 2020 (first published January 1, 1990)
My Rating: 4/5
Goodreads Blurb
First published in 1990 in the original Bengali, A Plate of White Marble tells the tale of the 'new woman' of an era that just witnessed the independence of a nation. Bandana, the protagonist, though grieves over her husband's early death, never conforms to the social connotation and ideals of 'widowhood', thanks to her uncle.
She dares to begin her life afresh in every possible sense. But naturally, the road proves to be full of thorns as she gradually faces bitterness from many quarters of the society. The only thing she clings to is her son, but once that anchor too is lost, she leaves behind the safe concrete walls of what she used to consider 'home', only to work for a far greater cause—she joins a children's home to work for those who need her the most.
This first translation brings a significant Bengali novel with important social concerns to a wider audience.
Review
There are a number of reasons why I loved reading this book. It is a Bengali book and having not read many Indian regional books, it is an absolute delight whenever I do.
The culture was represented well and I must say, this book is one of the best translated books I have read so far. Set in the 1950s, it follows the life of Bandhana, a young woman who gets married at a young age and becomes a widow when she is 27. The book goes on to narrate her struggles as a widow, living with her orthodox in-laws as well as dealing with the rules prescribed by the society of how a widow should be. She is also a single mother. The book spans around 30 years of her life and the different ups and downs she goes through and introduces a number of characters who come into Bandhana's life.
I loved how without being a very dense text, the book dealt with so many issues- widowhood, financial independence for women, societal norms, marriage and in-laws, family bonds, friendship, mental health and single parenting. It took me a while in the initial 100 pages to get into the book but after that, it was a breeze to read. The book is also quite realistic and I found the ending satisfactory.
If you're looking for an Indian book that is feminist in nature and has a strong element of family bonds, then I would highly recommend this book.
Thanks to the publisher Niyogi Books for a copy of this book!
Q. Which is your favourite translated book? Let me know in the comments!