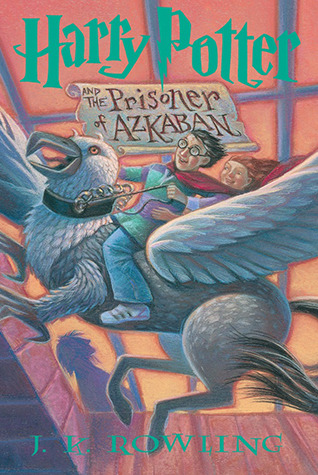 Hi everyone! I hope you all have been well. Another week has gone and I continue on posting my favorite quotes from each book of the Harry Potter series.
So here are my favorite quotes from Harry Potter and the Prisoner of Azkaban:
"I solemnly swear that I am up to no good."
"Mr. Moony presents his compliments to Professor Snape, and begs him to keep his abnormally large nose out of other people's business.
Mr. Prongs agrees with Mr. Moony, and would like to add that Professor Snape is an ugly git.
Mr. Padfoot would like to register his astonishment that an idiot like that ever became a professor.
Mr. Wormtail bids Professor Snape good day, and advises him to wash his hair, the slimeball."
"I don't go looking for trouble. Trouble usually finds me."
"Where is Wood?" said Harry, suddenly realizing he wasn't there.
"Still in the showers," said Fred. "We think he's trying to drown himself."
"Don't let the muggles get you down."
"What was there to be gained by fighting the most evil wizard who has ever existed?" said Black, with a terrible fury in his face. "Only innocent lives, Peter!"
"You don't understand!" whined Pettigrew. "He would have killed me, Sirius!"
"THEN YOU SHOULD HAVE DIED!" roared Black. "DIED RATHER THAN BETRAY YOUR FRIENDS, AS WE WOULD HAVE DONE FOR YOU!"
"What's that?" he snarled, staring at the envelope Harry was still clutching in his hand. "If it's another form for me to sign, you've got another -"
"It's not," said Harry cheerfully. "It's a letter from my godfather."
"Godfather?" sputtered Uncle Vernon. "You haven't got a godfather!"
"Yes, I have," said Harry brightly. "He was my mum and dad's best friend. He's a convicted murderer, but he's broken out of wizard prison and he's on the run. He likes to keep in touch with me, though…keep up with my news…check if I'm happy…."
"Bad news, Harry. I've just been to see Professor McGonagall about the Firebolt. She – er, got a bit shirty with me. Told me I'd got my priorities wrong. Seemed to think I cared more about winning the Cup than I do about staying alive. Just because I told her I didn't care if it threw you off, as long as you caught the Snitch first."
"I'm not going to be murdered,' Harry said out loud.
'That's the spirit, dear,' said his mirror sleepily."
"The consequences of our actions are always so complicated, so diverse, that predicting the future is a very difficult business indeed."
"Besides, the world isn't split into good people and Death Eaters. We've all got both light and dark inside us. What matters is the part we choose to act on. That's who we really are."
"What do we want to be prefects for?" said George, looking revolted at the very idea. "It'd take all the fun out of life."
"You look in excellent health to me, Potter, so you will excuse me if I don't let you off homework today. I assure you that if you do die, you need not hand it in."
"Sure you can manage that broom, Potter?" said a cold, drawling voice.
Draco Malfoy had arrived for a closer look, Crabbe and Goyle right behind him.
"Yeah, reckon so," said Harry casually.
"Got plenty of special features, hasn't it?" said Malfoy, eyes glittering maliciously. "Shame it doesn't come with a parachute – in case you get too near a Dementor."
Crabbe and Goyle sniggered.
"Pity you can't attach an extra arm to yours, Malfoy," said Harry. "Then it could catch the Snitch for you."
"I'm very busy with schoolwork, of course."
"How can she be?" said Ron in horror. "We're on vacation!"
"You think the dead we loved ever truly leave us? You think that we don't recall them more clearly than ever in times of great trouble? Your father is alive in you, Harry, and shows himself plainly when you have need of him."
"It's cruel that I got to spend so much time with James and Lily, and you so little. But know this; the ones that love us never really leave us. And you can always find them in here"
"We tried to shut him in a pyramid, but Mum spotted us."
"Get off me," Harry spat, throwing Pettigrew's hands off him in disgust. "I'm not doing this for you. I'm doing it because — I don't reckon my dad would've wanted them to become killers — just for you."
"Moony, Wormtail, Padfoot, and Prongs," sighed George, patting the heading of the map. "We owe them so much." "Noble men, working tirelessly to help a new generation of law-breakers," said Fred solemnly."
"Your father is alive in you, Harry, and shows himself most plainly when you need of him. How else could you produce that particular Patronus? Prongs rode again last night."
"Eat, you'll feel better." – Remus Lupin"
"A bit of old parchment!' said Fred, closing his eyes with a grimace as though Harry had mortally offended him. 'Explain, George.'
'Well…when we were in our first year, Harry-young, carefree, and innocent-'
Harry snorted. He doubted whether Fred and George had ever been innocent.
'-well, more innocent than we are now-we got into a spot of bother with Filch."
"He seems like a very good teacher," said Hermoine approvingly. "But I wish I could have had a turn with the boggart -"
"What would it have been for you?" said Ron sniggering, "A piece of homework that only got nine out of ten?"
"He raised his hand automatically and tried to make his hair lie flat. "You're fighting a losing battle there, dear," said his mirror in a wheezy voice."
"Professor McGonagall had a way of making him feel he must have done something wrong."
"Harry and Ron both made furious moves toward Malfoy, but Hermione got there first — SMACK! She had slapped Malfoy across the face with all the strength she could muster. Malfoy staggered. Harry, Ron, Crabbe, and Goyle stood flabbergasted as Hermione raised her hand again."
"Happiness can be found, even in the darkest of times, if one only remembers to turn on the light."
"Mischief Managed."
What are your favorite quotes from this book? What are you currently reading? Let me know down below.