Hi everyone! How are you all doing?
March and April were very long months for me, especially March. A lot happened in my personal life. My last semester of college is over and I have my final exams in May. I didn't read that much in the last two months and among the books that I did read, many were for college. The highlights were the lighthearted romance books I read from this list that got me through these tough months.
This series was a delight to read. Take a Hint, Dani Brown follows a friends to fake relationship to lovers romance between PHD scholar and emotionally unavailable Dani, and her university's security guard and rugby coach, Zafir. Both these characters were badass in their own ways and I loved every bit of their story. Act Your Age, Eve Brown follows the youngest Brown sister, Eve who has always been sort of a spoiled child who is forced by her parents to find a job and hold it down for a certain period of time. She stumbles upon a bed and breakfast run by the uptight and controlling Jacob who instantly dislikes the haggard energy that Eve gives out. However, he hires her and despite how different they are from each other, they have undeniable chemistry. This was perhaps my favourite book of the series. I loved the B&B setting, the amazing characters, and their journey.
Solid 4/5 stars to both.
The Sun Is Also A Star by Nicola Yoon follows one day in the life of two strangers who meet and fall for each other. It's Natasha's last day in New York City as her family is being sent back to Jamaica for being undocumented immigrants. She's desperately trying to find a solution. Daniel has strict Korean parents and he has a college interview for Yale. He's being forced to become a doctor but all he wants to do is write poetry. This book is not very different from other YA teen romance books but I enjoyed reading it nonetheless. I would definitely pick up another book by the author.
4/5 stars
It has been years since I read a Sarah Dessen book and I honestly did not remember anything of her writing style. This book follows Auden as she spends her summer break at her dad and stepmother's house who just had a newborn. Auden's relationship with both her mom and dad is strained for different reasons. While she excels academically, she doesn't have much of a social life.
Not even halfway into this book, I was pleasantly surprised. This book is more than just a teenage summer romance book. Romance is not even a big part of it. It amazingly talks about the complexity of familial relationships and how much they shape our personalities as adults. I loved the main character Auden's character growth. This book is on the longer side and it doesn't have many action-packed or exciting moments, but if you're looking something more meaning to read, I would recommend it.
4.5/5 stars
This enemies-to-lovers romance follows Emelia, who is a caretaker of a rich old lady called Rose who just passed away. Surprisingly, Rose leaves half of her estate to Emelia. But there are some conditions that Emelia has to follow, including live in the giant house with Rose's grandson Ben for a month while renovating the family home.
While I enjoyed reading this book, I lost some interest halfway through. The main characters ended up getting fake engaged and they carried that charade for too long, which I found absolutely ridiculous.
3/5 stars
Haunted is based on a true story and is a terrifying read. The protagonist moves into a new house with her husband and little girl and soon discovers paranormal activity in it. She cannot desert the house she recently bought and so, she has to find a way to live there. Things just keep on getting worse and worse and it is a long journey in fighting the paranormal. Check out my full review of this book here.
4/5 stars
This book follows four characters who died very young into the Afterlife. The boundaries between the living world and the afterlife get blurred and what we see are people who had difficult lives and the mental wounds that were left on them. This book is a good combination of the elements of horror and fantasy as well as deeper psychological themes like childhood trauma. Check out my full review of it here.
4/5 stars
College Reads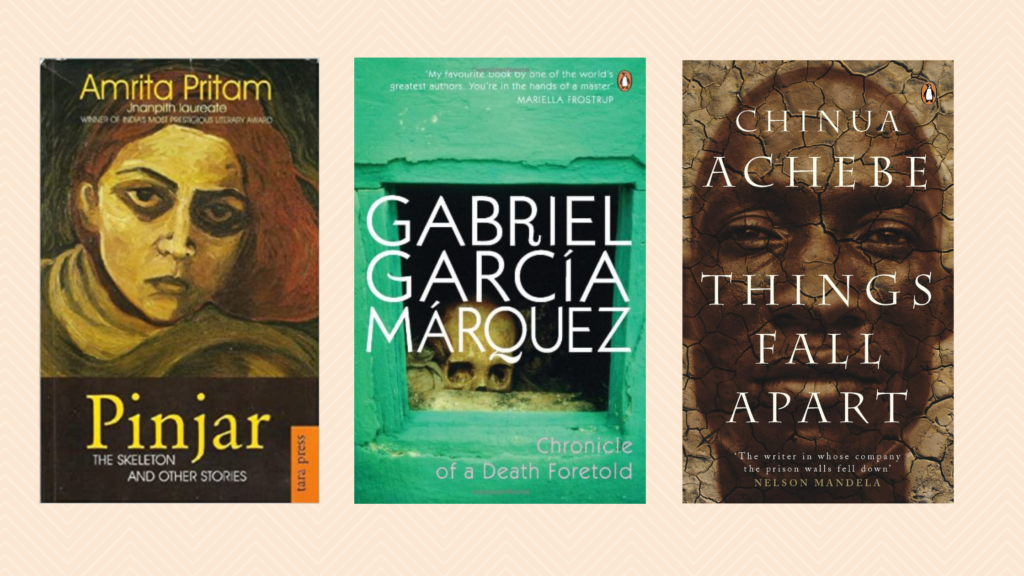 Pinjar is a short read. Through one woman, Pritam tells the story of many women of that time who were displaced, abducted, raped, or forcefully married into another religion. The English translation is simple to read. I imagine the original would have a much deeper impact on the reader. The story of the protagonist, Puro, is complex. She questions her place in the world and the injustice done to her for being a woman. She comes to love as well as hate her husband who abducts her, marries her, and converts her into his religion. I think this novel is incredibly relevant even today. Pritam shows how women, since time immemorial, have been used as objects of revenge during wars. In the works that I have read so far, I've found her writing to be bold, powerful, and full of emotions.
4/5 stars
A murder happens in a town. Everyone knew that the man would be killed.
This book is a journalistic-style narration of the murder, narrating at the same time what happened before it and tells us about the various characters of the town.
I had high expectations but I just failed to really get into this book. I enjoyed the writing style but the book isn't memorable for me.
4/5 stars
This book is the story of Okonkwo, a strong, self-made man of the Igbo tribe in Nigeria. Achebe represents the Igbo society very objectively. He beautifully writes about the culure and its values and beliefs as well as the effect of colonisation on it. While I really liked this book, it took me a long time to read it and get into it – hence the rating,
3.5/5 stars
Blog Posts
April was National Poetry Writing Month. I was not able to finish #NaPoWriMo this year but I managed to post 10 poems.
Check them all out here if you enjoy poetry!
I also made a movie recommendation list in March!
What was your favourite read of April? What are you excited to read in May? Let me know down below!